Noemi Manero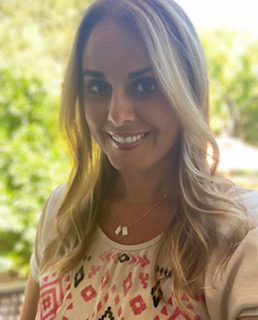 Noemi was born and raised in Barcelona, Spain.  Growing up in Barcelona, She was always mesmerize by the art, architecture and culture of the city.  Learning and studying from a young age art history and some of the artists that still influence her work today, like Picasso, Matisse, Van Gogh, Cezanne, Gauguin, Degas, Monet, Klimt, Salvador Dali…amongst others from that Era.  
In her twenties she moved to the United States landing in the San Francisco Bay Area. 
Art continues to be her biggest passion and to be able to paint every day. Today her paintings hang in public and private collections throughout Europe and California. Her work is known for its movement , color palette, expression and emotion shown in it.  She is inspired by photographies she takes while traveling and Urban Landscapes is what she enjoys the most, but Impressionism is a style of painting she loves and continues to study in her home studio.
In the last 8 years, many pieces have been sold to local and international collectors and she won several finalists places in San Francisco, Barcelona and Italy.  Several of her paintings have been featured at Silicon Valley art shows, as well as Barcelona Art Galleries in addition to several private exhibitions.
One of Noemi's mission is to help and support her community one painting at a time.  In the last few years she has donated to Cancer re-search, LGTBQ, BLM, Feeding America, Mind Child Institute, Schools in Mexico, etc..Currently she is donating proceeds to those affected by the rain and ALAS-Half Moon Bay.  She is always accepting new ides and projects in need.
She earned her Bachelor's Degree in International Business and Tourism University of Barcelona. Her early professional career was spent in consumer marketing at companies such Virgin Airlines, GAP and Visa.
La Boqueria, Barcelona, Finalist Piece in Barcelona.
Artwork to be uploaded soon.